The Viking Rifle Series includes several Swedish and Norwegian long range competitions coming together to further expand long range shooting in Scandinavia. This June, eight Finnish guys decided to take part in the VRS BD Långhåll 2018 match in Northern Sweden. Markku Uusi-Rasi, one of the Finnish shooters, explains:
"In Finland, long range shooting enthusiasts compete mostly in sniper competitions, where pure long range shooting doesn't cut it, as the shooter is given a tactical scenario to handle at each competition stage. But the problem is that not all long range shooters are sniper trained or fit enough for physically demanding sniper matches. We knew that there were lots of long range shooters in our neighboring countries, so we decided to find out what kind of competitions they have. We heard out about the Viking Rifle Series and watched videos from previous VRS competitions and liked what we saw. The VRS has lots of different shooting stages, tricky shooting positions and tight time limits. No tactical aspect, just pure and fun long range shooting."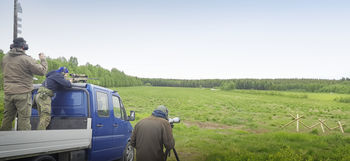 All in all, 55 shooters took part in the match. There were 7 shooting stations and each one had two shooting stages, adding up to a totall of 14 stages. Shooting distances varied from 185 m to 982 m and the targets were steel plates, varied in size. The total of shots fired per shooter came in around 140.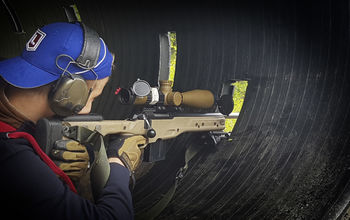 "There were no unknown distance shooting stages. All ranges were given to competitors, or we had the opportunity to use a laser rangefinder provided by the range officers", Markku explains. "The shortest shooting distance might sound too easy for long range shooting, but that couldn't be farther from the truth, as the target diameter was only about 6 cm / 2.34'' and the shooting position wasn't a steady prone position."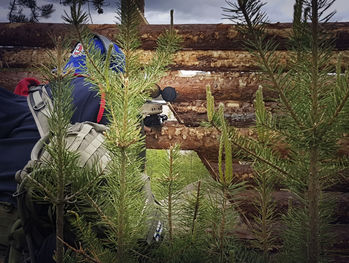 Markku used Lapua ammo, and was very satisfied with the performance. "I had a factory loaded 6,5×47 Lapua and my buddy used hand-loaded 6.5 Creedmoor ammo with Lapua components and Vihtavuori powder. My Lapua ammunition and the Lapua ballistics app worked great. I had a hard time believing how little wind drift the bullet had. I'm used to shooting a .308 caliber, which doesn't perform that well in windy conditions. The 6,5×47 Lapua ammunition was outstanding."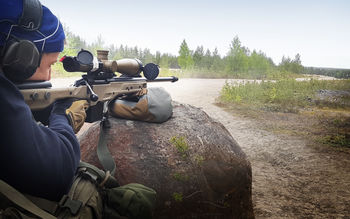 The event itself was also a success and left the shooters with some good memories and ideas for the future." The atmosphere in the competition was great, everyone was eager to help out and give tips to newcomers. It was a great experience. We are looking forward to more VRS competitions and we're thinking about arranging our own match in the future. This type of shooting has great potential to it and the numbers of long range shooters are steadily rising."
Photos by Marko Pikkarainen