rimfire performance for the competitive .22lr shooter

Whatever your competitive shooting discipline, you'll find the perfect offering from our selection of .22 LR rimfire cartridges. Serious rimfire competitors use the best firearm and ammunition available to them. Lapua continues to deliver exceptional performance – from ISSF disciplines to rimfire benchrest shooting, biathlon, pistol, and 60-shot prone .22 LR competitions.
Lapua manufactures rimfire cartridges with utmost care and precision. Each .22 lr cartridge is checked individually, and we test all lots thoroughly on ballistic values as well as gas pressure and grouping. We release our ammunition for distribution only if all test results are within our strict tolerance levels. At current, Lapua offers the following .22lr rounds: X-Act, Midas+, Center-X, Polar Biathlon, Pistol OSP and Pistol King.

Continue to feed your competition firearm platforms the ammunition that has no equal. Find your passion with Lapua .22 LR rimfire ammunition.
The statistics prove it
Throughout the years, Lapua rimfire ammunition has been the steady forerunner and the number one choice of the best shooters at countless Olympics, World Championships and other major shooting events. At the 2021 Biathlon World Championship, ALL medals in ALL events were taken with Lapua ammo.In the past four Winter Olympics, 86.25 % of all individual biathlon medals were won with Lapua!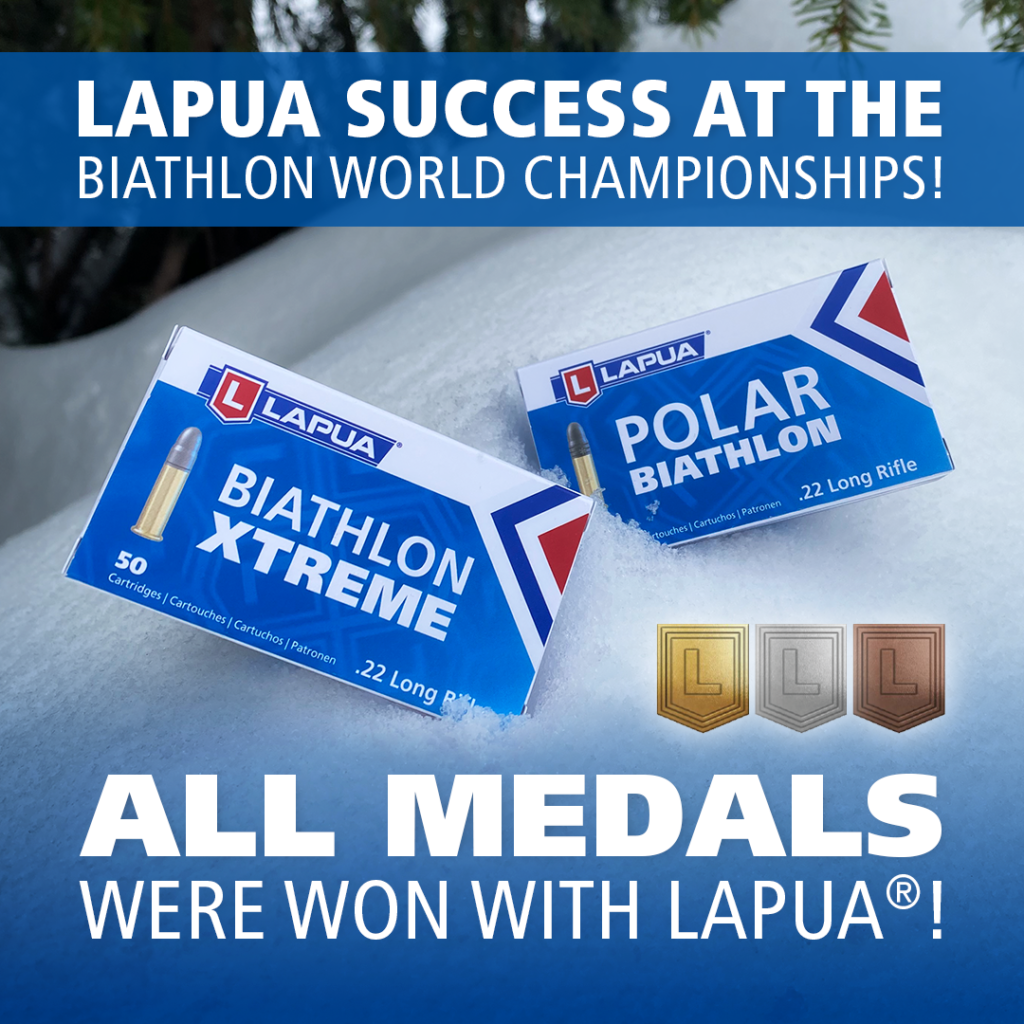 Rimfire test shooting locations:
Lapua Rimfire Test Range, Schönebeck, Germany
Bookings:
Phone: +49 3928 729 100,
RimfireTestRange@nammo.com
Nammo Schönebeck GmbH
Wilhelm-Dümling-Straße 12
DE-39210 Schönebeck (Elbe), Germany
Lapua Rimfire Performance Center West in Mesa, Arizona, USA
Ryan Sponauer
Phone: 480-898-2731
rimfiretest@capstonepg.com
Lapua Rimfire Performance Center
4051 N. Higley Road
Mesa, AZ 85215
Lapua Rimfire Performance Center East in Marengo, Ohio, USA
Shane Barnhart
Phone: 480-695-0744
rimfiretesteast@capstonepg.com
Lapua Rimfire Performance Center
616 State Route 61, Unites 3-9
Marengo, OH 43334
FINLAND:
Lapua Test Center
Olli Punkari
Phone: +358 40 737 4955
www.lapuatestcenter.fi

Kustaa Tiituntie 1
62100 Lapua, Finland
Lapua Test Lab
Veijo Sivula
Phone: +358 45 677 0599

Voipiovuorentie 50
44300 Konnevesi, Finland