Lapua is pleased to announce the re-opening of our Lapua Rimfire Performance Center (LRPC) at the Cardinal Shooting Center in Marengo, Ohio. Due to Covid-19 restrictions enacted in Ohio, the LRPC has been closed.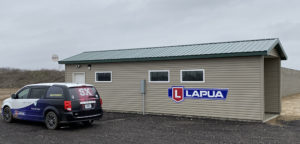 Beginning May 4th ,2020, Lapua will test customer rifles that are shipped to the LRPC. The following Monday, May 11th, the Performance Center will open for customers with appointments to bring their firearms on site with safety restrictions in place.
Patterned after the world-renowned Lapua Performance Center in Germany, both the Cardinal and existing location in Mesa, AZ give shooters the opportunity to test various types, and lots of Lapua ammunition, under tightly controlled conditions. Fully instrumented, with state of the art Meyton/Bollman electronic targeting systems, the centers offer the unique ability to test ammunition at both 50 and 100 meters, simultaneously with a single string.
"We're extremely excited to re-open our second Performance Center, and the safety of our customers is our first priority. We have placed safety measures in place to keep our customers safe while we provide them with world class service," said Adam Braverman, Director of Sales and Marketing at Capstone Precision Group, the exclusive distributor of Lapua products in the U.S. and also responsible for running the U.S. rimfire centers.
LRPC, Luke Johnson stated, "Lapua's Second Performance Center in the United States will provide increased opportunity for competitors to find some of the highest quality rimfire match ammunition. We are eager to have our customers see our new facility, and are taking precautions to keep them and our employees safe."
Customers interested in testing at the new Lapua Rimfire Performance Center in Ohio, may call (480) 695-0744, email at rimfiretesteast@capstonepg.com or fill out an appointment request at www.capstonepg.com/rpc/