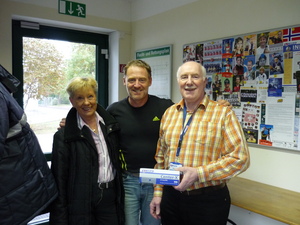 After the first World Cup station in Östersund the athletes will travel to Hochfilzen (AUT), Pokljuka (SLO), Oberhof (GER), Ruhpolding (GER), Antholz (ITA) and to the Olympic Games in Vancouver (CAN). One of the last preparations are done in the Lapua Service Center in Schönebeck.
The World Cup Teams from Germany, Norway, Russia, Poland, Slowakia, China, Belarus, Austria, Hungary, USA, Kazakhstan or Czech republic come for the ammunition test of the best winter ammunition, which is manufactured and tested under nordic conditions, the Lapua Polar Biathlon.
Photo: Klaus Siebert, Coach of the Biathlon Team Belarus, together with the Center X winner from the German Championships Hilmar Bohne and his wife.