Lapua® presents: New AirLock™ hermetically sealed Naturalis® cartridges
Lapua is proud to introduce the latest major improvement to our Naturalis hunting cartridge line: the AirLock hermetical seal, a completely unique offering on the market. Thanks to this technical innovation, you can use your Lapua Naturalis ammunition for a longer time, in any kind of weather conditions, and still get all the premium qualities you expect from our products.
In practice, a special automated process creates a seal on the seams of the cartridge, between the case and bullet as well as the primer and case. The AirLock hermetical seal ensures that the powder in the cartridge is protected from outside moisture or changes to moisture levels. As ammunition often has to endure long transports and storage time in a multitude of environments, the AirLock hermetical seal will keep Lapua cartridges moisture-free, in a class of their own.
The AirLock hermetical seal doesn't affect the ballistic qualities of the cartridge, and the cartridge cases are safe to reload. You don't have to worry about spending extra time cleaning your rifle either, as the AirLock hermetical seal doesn't leave any extra residue in the rifle. As extending barrel life is something we care about, we naturally use only the best components with special decoppering features: Vihtavuori premium powder and our Naturalis copper bullet with a special jacket treatment.
Put together, they highlight what we already know: Lapua ammunition shoots clean, anytime, anywhere. For hunters, it means they can enjoy superior results – come rain or shine.
Naturalis AirLock cartridges available for hunting season 2020-2021
AirLock hermetically sealed Naturalis cartridges will be available in the hunting season of 2020-2021 – check for the blue AirLock logo in the corner of the ammo box!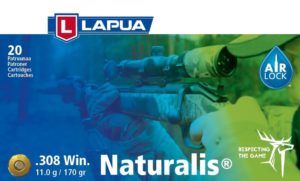 The Lapua Naturalis family includes hunting cartridges in calibers:
.222 Remington
.243 Winchester
6,5×55 SE
6,5×47 Lapua
6,5 Creedmoor
7×64
7x65R
.308 Winchester
.30-06
8×57 IS
8×57 IRS
.338 Lapua Magnum
9,3 x 62