Join Lapua Club
Lapua Club – VIP room available for our customers
The Lapua Club is an exclusive online platform for our hunting and target shooting customers. You can become a member on the Lapua Club website by typing or scanning the QR code on your Lapua product package*. The Club code is a series of numbers and letters, found on either the inside flap of the cartridge box or as a separate card in the brass / bullet boxes, as well as in the rimfire bricks. By registering your ammunition purchase you're entitled to Lapua Club member benefits. As a Lapua Club member you get easy access to more detailed information on Lapua products, for example trajectory charts for all cartridges. You can also share your own Lapua experiences in our Lapua Club Story Room, a feature not found elsewhere.
*available in most centerfire boxes, brass and bullet boxes and 500 pcs rimfire ammo boxes. Note that some boxes may not come with a code, usually because the product has been manufactured before the Club has existed.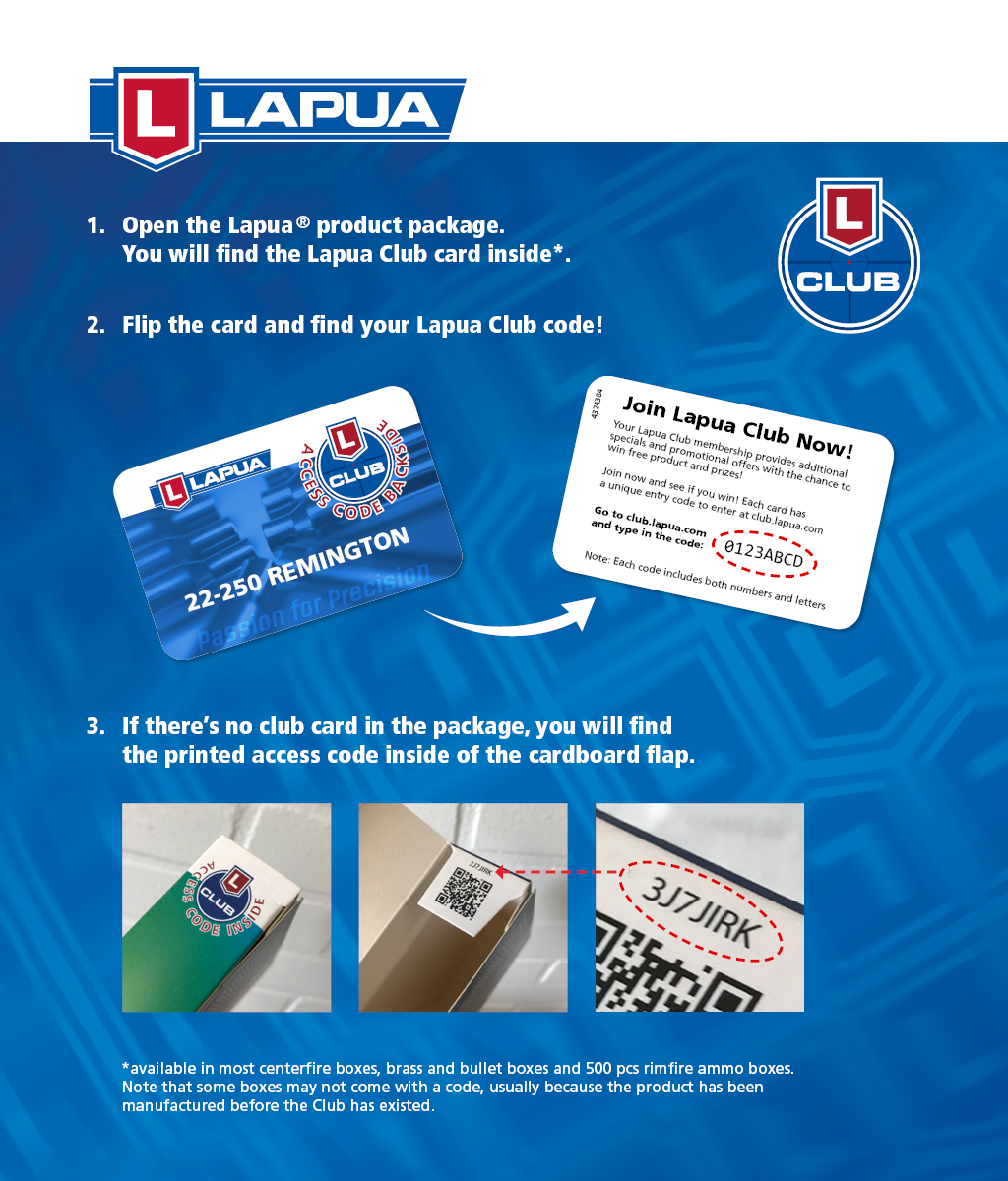 Register every Lapua cartridge package you purchase in the Lapua Club
If you have purchased multiple ammo boxes, register all of them separately.
Before joining, please read our Privacy Policy. When you create a profile in Lapua Club, you agree that you have read our Privacy Policy and understand its regulations, and give consent to the handling of your personal information as is explained in the Privacy Policy.
Join the Club today, and share your stories and passion with other fans!
Go to the Lapua Club website and join today!
At current, Lapua is able to ship Club prizes to the following countries:
EU and Schengen countries, USA, Canada, Japan, New Zealand, Australia, South Africa, Serbia and Bosnia and Herzegovina.
Lapua Club changes in June 2021
The Lapua Club content and layout will change in June 2021, also resulting in changes to the services we offer in the Lapua Club. Stay tuned for news!