Naturalis® hunting bullets and ammunition
The Lapua Naturalis bullets have been produced for almost 20 years, and have since been a top choice for hunters around the globe. The projectile design uses state of the art technology to produce consistent and controlled expansion, something every hunter appreciates. The polymer valve utilizes hydraulic force to create the optimum mushrooming effect at the widest velocity range on the market.
The Naturalis is made of pure copper. As a premium hunting bullet it performs consistently, retaining a full 100% of its weight after expansion almost every time. The material, design and controlled expansion ensures a solid and nearly unbreakable construction. It provides maximal shock effect and works perfectly within terminal velocities of 490 m/s to 1000 m/s (1607 fps to 3280 fps). The boat tail design eases reloading, and together with the streamlined ogive provides improved downrange ballistics. It doesn't leave anything in your valuable game meat, so with Naturalis, you get a clean shot.
A great hunting bullet for all kinds of game
The Lapua Naturalis bullets selection offers suitable caliber options for hunting all kinds of game. The Naturalis projectile is great for hunting birds such as grouse, small to mid-size game like fox and deer, and big and dangerous game like moose, elk, red deer, wild boar and bear. For all available factory-loaded hunting cartridges, go to our ammunition page.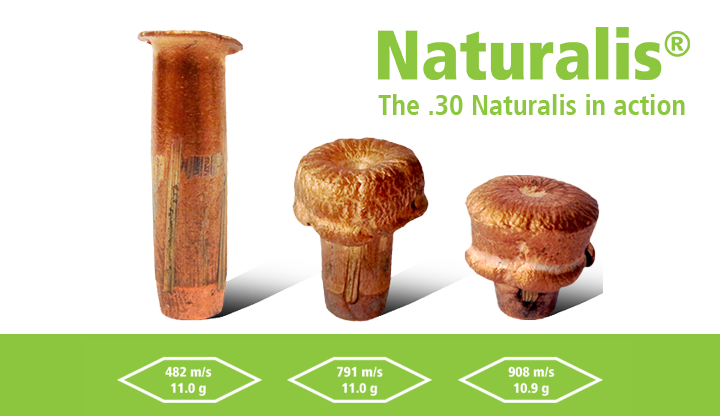 Lapua Naturalis bullets offer superb weight retention
The mushrooming of the Naturalis bullet starts immediately on impact. The expansion process starts at the tip of the projectile, expanding symmetrically and without fragmentation. This gives a maximal energy transfer to the hunted game, reduces the risk of unnecessary suffering, and minimizes the meat loss.